News Releases
Columbus Business First Article June 23, 2016
Details
Central Ohio nursing home chain grows to 7 through acquisition, new build
A Central Ohio owner-operator of five nursing homes is growing by 40 percent in less than a year: MacIntosh Management Company LLC acquired a nursing home June 1 and is building new in Canal Winchester.
President Curt Anderson said the 32-year-old for-profit company is able to expand amid fluctuating reimbursement rates from government insurers because it can get economies of scale from operating many properties, like the larger chains, while occupying a customer service niche closer to nonprofit retirement communities that typically maintain higher ratios of staff to residents.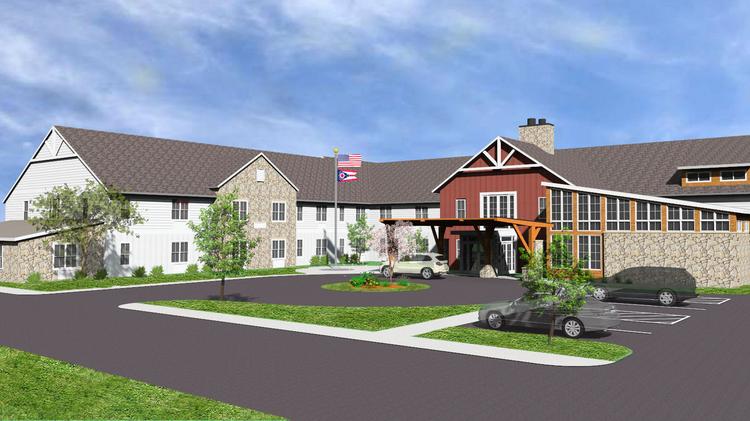 Construction is expected to start by late summer on a $15 million facility with 75 skilled nursing beds and 35 assisted living apartments, on 7.5 acres in a largely residential neighborhood on East Gender Road, a few blocks south of Groveport Road. The 87,000-square-foot complex expected to open in mid-2017 will create about 110 jobs.
MacIntosh commissioned a market study and guessed the consultants would recommend suburbs to the north or northeast, Anderson said, but the top choice was Canal Winchester.
"That's one of the last communities around (Interstate) 270 that has the land and ability to grow," he said.
MacIntosh also acquired the 100-bed Columbus West Park Nursing and Rehabilitation Center in the city's Westgate neighborhood when past owner Tom Stewart retired. It purchased the real estate for $3.4 million, but there was an additional undisclosed amount for the business assets. MacIntosh took on the center's 115 employees and renamed it West Park Rehabilitation Center, Skilled Nursing and Memory Care.
"We'd been strategically thinking about expanding," Anderson said, when a broker approached about the center's imminent availability.
"We weren't out actively knocking on doors," he said.
MacIntosh used a bank loan for the acquisition and is financing the construction with Columbus investment banking firm Lancaster Pollard.
The Canal Winchester project was made possible by shifting 75 state bed licenses from the company's Whetstone Rehabilitation Center across the street from OhioHealth Riverside Methodist Hospital. That facility was licensed for 200 beds in semiprivate rooms, but is converting most of its rooms to private and had excess licenses. Its other locations are in Hilliard, Grove City, New Albany and Circleville. MacIntosh also runs a home health service.
Carrie Ghose covers health care, startups and technology for Columbus Business First.
New Albany Care Center's rehabilitation addition provides 40 private rooms
Details
Contact: Jessica Kirkland
Director of Admissions and Marketing
614-855-8866
New Albany Gardens and Care Center recently completed a multimillion dollar post hospital rehabilitation addition to its existing physical plant. In response to changing demands of today's nursing and rehabilitation patients and a desire to provide the New Albany and surrounding communities with a modern option for skilled rehabilitation, New Albany invested in providing a fresh new look to skilled care.
Monterey Rehabilitation Center, Skilled Nursing & Memory Care opens the MacIntosh Heart Health and Rehab Center
Details
Contact: Tricia Zelenak
Monterey Rehabilitation Center, Skilled Nursing & Memory Care
614-875-7700
Grove City, Ohio, February 15th – After months of preparation that includes extensive specialty training of nurses, nursing assistants, dietary staff and therapists as well as changes to the physical plant, Monterey Rehabilitation Center, Skilled Nursing & Memory Care is ready to open its 10 bed in-patient Heart Health Center.
"Discover Where to Recover" from an orthopedic surgery or injury
Details
Contact: Jody Beckley
The MacIntosh Company
614-345-9500
Post-acute care is an ideal recovery option for patients making a transition from the hospital to home. The MacIntosh Company's post-acute care services focus on maximizing the functional abilities of patients, teaching lifestyle adjustments that promote independence and supporting them in reaching their rehabilitation goals as quickly as possible.
AmityCare Named as a Top Agency of the 2012 HomeCare Elite
Details
Contact: Trina Eddy
AmityCare
740-477-6842
This email address is being protected from spambots. You need JavaScript enabled to view it.
Columbus, OH, December 4, 2012 — AmityCare today announced that it has been named a Top Agency of the 2012 HomeCare Elite™, a compilation of the top-performing home health agencies in the United States. Now in its seventh year, the HomeCare Elite identifies the top 25 percent of Medicare-certified agencies and further highlights the top 100 and top 500 agencies overall. Winners are ranked by an analysis of publicly available performance measures in quality outcomes, process measure implementation, patient experience (Home Health CAHPS), quality improvement, and financial performance.